Recipes From
Chef Maxwell's Kitchen
<![if !vml]>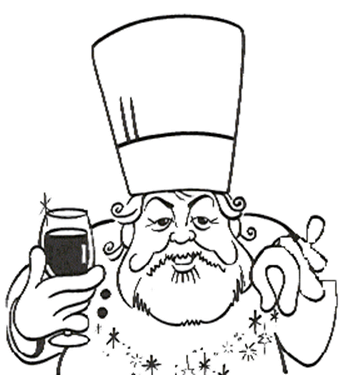 <![endif]>
Ten Years of Tasty Television
In 1995 Chef John Maxwell began "Chef Maxwell's Kitchen" on BLAB-TV.  That program was so successful in the local market that "Chef Maxwell's Kitchen" is now featured in more than 40 markets throughout Virginia and the Southeastern United States.  As part of the Virginia Farm Bureau's "Down Home Virginia", "Chef Maxwell's Kitchen" has promoted Virginia products and our unique style of cooking for more than ten years.
During those ten years many fine chefs have made guest appearances on the show and have demonstrated unique and imaginative dishes.
Combining these recipes with Chef Maxwell's own creative offerings has resulted in an exceptional cookbook that ranges from simple soups and salads to the most exotic of gourmet fare.  Featuring 200 recipes, the cookbook makes good Virginia cooking accessible to even the most inexperienced cook.
Set for a November release, "Recipes from Chef Maxwell's Kitchen" will be an inexpensive but essential addition to any cook's collection. 
In addition to wonderful recipes, this cookbook is filled with helpful tips, new ideas, and tricks of the trade. 
This unique cookbook will be one of the most used tools in your kitchen.
The cover sports a linen finish lamination that resists stains and fingerprints.
The durable plastic comb binding lets your cookbook open completely flat making it easier for your to keep your place.
The recipes are organized into categories that make it easy to find a recipe that suits your purpose.
The "Ensemble" category includes all of the recipes you need to produce an attractive, well balanced meal without having to flip from section to section in the cook book.  Recipes for the main course, starch component, vegetable, and sauces are on facing pages to make your job easy.
Each category of recipes is divided into sub-categories to make it simple to find the right item.