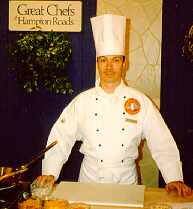 528 Maynor Drive, Williamsburg, VA 23185
757-229-2334
vcc97@aol.com

Renny Parziale has worked in kitchens from Vermont to Georgia since 1981. Chef Parziale is a Certified Chef de Cuisine through the American Culinary Federation and a three time gold medal winner in culinary competitions. Prior to founding the Virginia Culinary Company, positions held included Chef de Partie at the Williamsburg Inn and Culinary Arts Instructor at PD Pruden Technical Center. Some of his recipes can be found in the cookbook Culinary Secrets of Great Virginia Chefs and others right here on this website. Chef Parziale gives cooking demonstrations in the Tidewater area.

Work Experience:

1994 to Present:
Virginia Culinary Company, Williamsburg, Va., Chef/ Owner
Solicit and prepare off-premise catering for contracted individuals from 10 to 100 people in private homes. Hire out to various national resorts and restaurants on a temporary basis in a wide variety of culinary positions. Have benefited by exposure to new styles and emerging techniques. Clients have included 4 Star Kingsmill Resort, 5 Star Williamsburg Inn, Westin Peachtree Plaza, Westin Indianapolis, as well as numerous local restaurants. Demontrate culinary equipment and food products at trade shows. Teach culinary techiques and original recipes for private groups of up to 300 participants.
1994 to 1996:
PD Pruden Vocational Technical Center, Suffolk, Va., Chef/ Instructor
Served as the sole culinary arts instructor for this two year program. Instructed 35 students in all aspects of restaurant operations from sanitation to table service. Prepared and served daily lunch for 15 staff members and prepared 3 to 4 banquet functions monthly for up to 150 people. Students were encouraged to participate in and won various food shows on both a local and national level.
1990 to 1994:
Colonial Williamsburg, Williamsburg, Va.
Chef de Partie
Promoted to the Williamsburg Lodge and held responsibilities for the operations of two hotel restaurants seating 270. Managed 10 cooks and apprentices and supervised the banquet line staff for functions seating to 1,500. Oversaw all areas of the kitchen in the absence of the Executive Chef. Entermetier
Worked with Executive Chef Hans Schadler, CEC, AAC and held responsibilities for preparations at all stations including pastry for the 5 Star Williamsburg Inn. Prepared a la minute and plated functions on all shifts in 3 kitchens for 1 restaurant seating 270, 2 country clubs and banquets seating to 300. Prepared cuisine ranging from American Nouvelle to Classical French. Organized, trained staff and opened the dining facility in the Golden Horseshoe Green Course Club House.
1989 to 1990:
The Kitchen at Powhatan, Williamsburg, Va., Chef de Cuisine
Held pre and post-opening responsibilities for this 50 seat restaurant serving Early American cuisine with Nouvelle influences. Designed kitchen, purchased equipment, hired and trained staff and wrote menus. Hands on production including poultry, game and meat butchering and dessert preparation. Supervised a staff of 5.
1988 to 1989:
The Raw Bar Bay Cafe, Norfolk, Va., Chef de Cuisine
Oversaw a culinary staff of 8 and was responsible for the upgrading of this 80 seat Raw Bar cafe to a broader restaurant operation. Hired a kitchen staff and taught basic culinary practices. Established systems and controls and was responsible for all food and beverage purchasing and some front of the house supervision.
1987 to 1988:
Masters Restaurant, Norfolk, Va., Chef de Cuisine
Recruited as Sous Chef to assist in the turnaround of a declining culinary operation. Was promoted to Chef and held full responsibility for planning and preparation for this 175 seat fine dinning restaurant serving Continental cuisine with Classical influences. Managed a staff of 20 and achieved significant reductions in loss, labor and food cost
1985 to 1987:
The Westin Hotel, Washington, DC, Sous Chef - Colonnade Restaurant
Promoted from Saucier in this 416 room 4 Star hotel. Was responsible for supervision of line staff and the hands on preparation of Southwest regional cuisine with heavy Nouvelle influences for the 160 seat award winning Colonnade restaurant. Wrote menus and trained new employees.
Prior Experience:
Encompasses progressive positions as prep cook, first cook, and Garde Manger in various restaurants including the 4 Star Chez Pierre in Martha's Vineyard, Ma; Alexandria, Va.; Nantucket, Ma; and Killington, Vt. since 1981.
Affiliations and Professional Recognition:

Vocational Teacher of the Year 1995-96, PD Pruden Vocational Technical Center
American Culinary Federation, Member since 1990
A.C.F Certified Chef de Cuisine
A.C.F Culinary Salons:
1996 - Bronze Medal, Hot Food Competition
1995 - Bronze Medal, Hot Food Competition
1994 - Gold Medal, Best of Show
1993 - Gold Medal, Best of Show
1992 - Gold Medal - team captain
1989 - Bronze Medal

Chef Demonstrations:
WAVY TV: Chefs of Virginia Series, 1993, '94, '95, '96, '97, '98
International Food Festival: 1992, '93, '94, '95
Virginia Institute of Marine Science: 1992, '96, '97, '98, '99, '00
Virginia Chef's Association: 1992, '99
Sandler Food Show: 1989
International Motel, Hotel, and Restaurant Show: 1998, '99

Portfolio Magazine, Norfolk, Va. 1989 - Golden Fork Award, Raw Bar Bay Cafe
Art Culinaire, 6th Edition - Photo Presentation, The Westin Hotel; Washington, DC